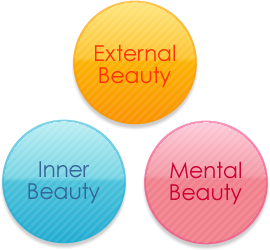 External Beauty
Creating Natural, Beautiful Skin
Our cosmetic products do not contain any mineral oils or artificial colorants or fragrances since these can interfere with the natural functions of the skin. You skin is a delicate, living mechanism. It protects the body from external factors and it if treated with care that supports the skin's natural renewal, the skin will have a radiant and natural appearance. Clair skin care products are designed to support this natural renewal that keeps the skin looking healthy and beautiful.
Inner Beauty
Building A Healthy Body
Waking up fresh each morning and eating good food can lead to an enriched life. This in turn results in a healthy body, a lively spirit and also brings out the natural beauty of the skin. It results in beautiful skin and a healthy body. Nutrition, cellular activity, circulation, and immunity hold the keys to a sound body. Clair food supplements boost the body's natural functions and help create a healthy and vigorous body.
Mental Beauty
Cultivating A Happy Heart
A happy heart leads to a softer expression, a sound body, and natural, healthy looking skin. The most important factor is to live in a style that you are comfortable with. Skin care leading to healthy skin and the application of cheerful make-up contribute to a calm, relaxed mind. This relaxed state of mind can be achieved by having esthetic treatment or massage treatments, which also help to relive stress.