Beautiful skin is one of the key points to good looks.
If our skin looks beautiful, we feel more positive and relaxed. And we ourselves can help promote healthy and beautiful skin.
Your skin is able to renew itself and even troublesome skin can reemerge as natural, healthy, and beautiful skin if given the right skin care.
What we can do is try to ensure that our skin maintains its natural function.
Restoring The Skin's Natural Beauty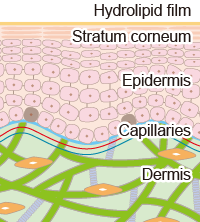 Ideally, our skin should retain moisture, be smooth to the touch, feel firm, have good elasticity, and have the color and radiance of a baby's skin. Beautiful skin not only looks good, it is also healthy, moist and well balanced. The stratum corneum (outermost layer) of the skin is a mere 0.02 mm thick. It is the layer of skin below this that promotes skin turnover to give you fresh, beautiful looking skin. Beautiful looking skin is healthy, moist and supple, and it also bolsters the skin's natural function that smoothly renews the skin to leave it looking healthy.
Structure of the Skin
How Our Skin Works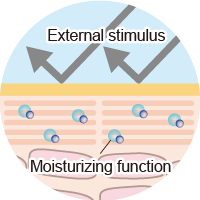 The surface of the skin acts as a protective barrier and also helps the skin retain moisture. It is this retention of moisture gives the skin its natural beauty and keeps it functioning smoothly. The skin is sensitive to the external environment and abrasion, and the evaporation of its moisture content, which can lead to skin problems such as inflammation, blemishes, and flabbiness. However, it also plays an important role in the skin turnover cycle generating fresh skin cells to give the skin its natural beauty. At Clair, we aim to actively support this natural function of the skin by helping it to retain moisture and enhancing its protective function, to renew its natural beauty.
Function Of The Skin
Our Philosphy Of The Three Dimensions Of Beauty
You have probably already realized this, but we cannot achieve beautiful skin by using cosmetics alone. The skin reflects our emotional and physical state and is part of our individual identity. To achieve true beauty, it is important to maintain the balance of "1. Beautiful skin, 2. Happiness mind, 3. Healthy body" This philosophy of the three dimension of beauty is what distinguishes Clair products from other manufacturers that only focus on the superficial dimension.
About Three Dimension Beauty.